Amidst unprecedented amounts of uncertainty, we are sure of one thing – families with special needs are resourceful. Regardless of how put-together or shaky your plan was for your loved one with special needs before COVID-19, if you're like the rest of us, you've since learned it was a house of cards.
Overnight, the structures we worked so hard to put into place were dismantled. That one teacher who could get through to him disappeared. The special snack that could pull her out of a funk is $75 online. And those obsessive thoughts and anxiety behaviors that you had once conquered have resurfaced with a vengeance. Meanwhile, the other peeps you have to take care of, including yourself, and/or that job that you need, are all ganging up on you, competing for your attention. We know. We get it.
Because when we look in their sweet faces, our hearts utterly melt.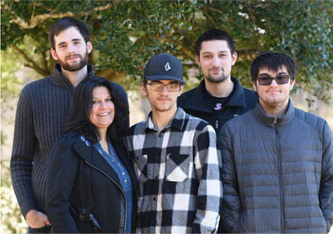 Is this what their life is like all the time? Having no control of anything at all? Would your feelings or choices, if you could even put them into words, matter? These are the questions that unlikely superheroes ask themselves. We want to share with you the empowering potential of MyGuide, something clinicians call a technological accommodation for cognitive deficits.
MPower Me offers families the same secure, flexible, and powerful resources their own family uses.
MyGuide was developed by a Virginia family searching for do-it-yourself caregiving tools to empower their son with autism to participate more meaningfully in his own life. MPower Me has worked with clinicians and special educators to release the most secure, flexible, and powerful enabling technology available… in 2020 just before the shutdowns. Free trials are available on Android, iOS, Amazon, and on the web with a Chrome browser. Whether you've been completely abandoned or have dedicated professionals willing to help, MPower Me has established a Special Ed Task Force of teachers and clinicians who are offering free consultation to convert IEP goals into engaging MyGuide lessons for your student. We'll also provide free training and coaching so you can incorporate this essential resource into your DIY special ed @ home. Please contact us if you or someone you know needs help managing students and adults with special needs during this public health emergency.
We are with you.